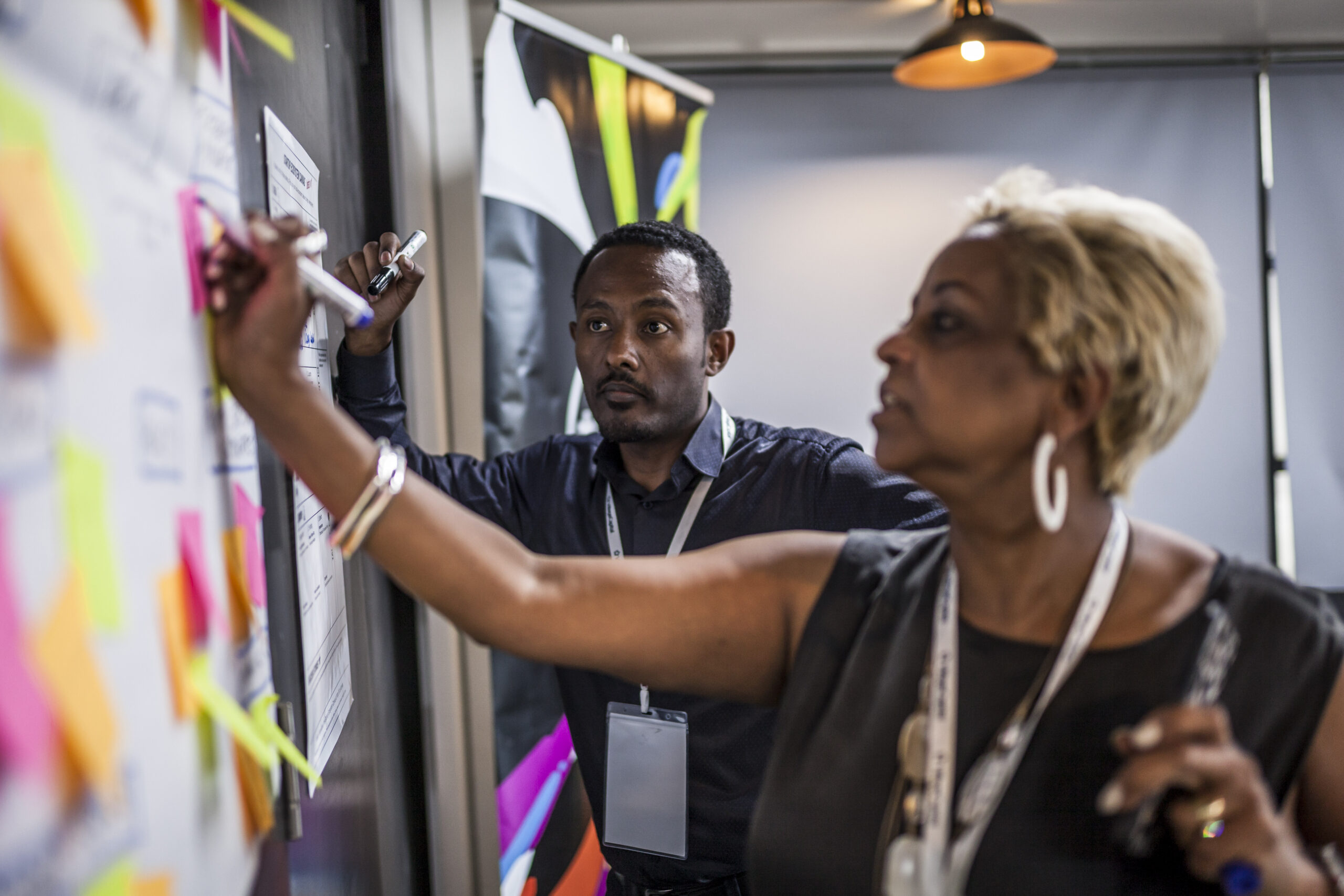 Village Capital has announced 32 startups operating in Africa, Asia, and the Middle East have been selected to join the Financial Solutions for Migrants program, an accelerator for impact-driven startups developing digital financial inclusion solutions for migrants.
The program which is funded by the Impact-Linked Fund for Gender Inclusive Fintech (ILF for GIF), managed by the Impact-Linked Finance Fund and supported by the Swiss Agency for Development and Cooperation, and the Austrian Development Agency, the operational unit of Austrian Development Cooperation, will work with the startups to further develop and refine their products and solutions to fit the needs of different migrant communities including migrant women and refugees. 
The program will provide a combination of intensive in-person and virtual investment readiness training, and connect the 32 startups to Village Capital's wider investor and mentor community.
Meet the 32 startups developing financial inclusion solutions for migrants across Africa, Asia and the Middle East.
Africa
Exuus (Rwanda) is building Africa's largest marketplace for microloans and micro insurance products for smallholder farmers in informal social saving groups. 
Finhazi (Uganda) is the digital platform connecting the underserved to financial services. 
Fleri (Ghana/US) is a membership – based healthcare platform that empowers immigrants living in the diaspora to find and provide quality care to their loved ones overseas.
HerVest (Nigeria) is an inclusive, fintech company that provides financial growth services from target savings, impact investing, and credit-specifically for smallholder women farmers and women-owned/led businesses in Nigeria.
Kotani Pay (Kenya) is an on-ramp/ off-ramp service provider connecting blockchain apps, protocols, fintechs, and businesses to local payment channels using API, stablecoin settlement solution, and USSD.
Payclide (Uganda) is a digital wallet that empowers African migrants, immigrant families, and entrepreneurs with a path to financial autonomy by enabling seamless cross-border spending, savings, and investments.
Patapia (Uganda) provides refugee women with a crucial market-based pathway to economic empowerment and increased stability.
PayingTone (Rwanda) is a 30-day, digital micro credit for essential goods and services with a merchant-only distribution model that provides digital consumer credit to be spent at its network of merchants point of sale. 
Regxta (Nigeria) is an inclusive digital platform that provides quick, easy and simple access  to financial services for the unbanked people in rural and peri urban communities  in Africa, including the internally displaced people and refugees. 
Susu (Senegal/France) is making healthcare accessible and affordable for Africans by offering a combination of insurance and healthcare packages that can be financed by the African diaspora on behalf of their loved ones back home.
Tumia (Kenya) aims to be the first mobile money platform facilitating money transactions across East Africa.
Asia
Bandhu (India) is a tech platform that connects low-income migrant workers with bundled jobs & housing, ensuring safe rural-to-urban migration. Based on the workers' digital rental cash flows, they enable cheaper home improvement loans.
Chalo Network (India) provides financial and documentation services to migrants and their households. They aim to provide affordable credit to migrant households for covering their migration cost, and initial stay at destination.
Fatakpay (India) is an app based financial wellness platform offered as an employee benefit program through the employer by providing them easy access to credit and other financial products and services. They provide credit to thin-file individuals that are largely internal migrant workers in urban areas.
Lucy (Singapore) is a mobile banking and business building services app to help entrepreneurial women to start and grow their businesses. It provides a suite of different services like early wage access, loans, savings accounts, remittances, and peer support network.
Mother Finance (Myanmar) is Myanmar's first licensed fully-digital lender. They have a mobile app and plan to become the go-to super app for lending, savings, insurance, personal finance advisory, financial literacy and learning. They are currently piloting and in between launching a new credit product for emigrants traveling to the Gulf and other South/Southeast Asian countries for employment. 
Mitrata (India) is a Non-banking Financial Company (NBFC) – Microfinance Institution (MFI), providing credit facility to the marginalized, excluded and vulnerable groups for enterprise development and other essential needs.
Rahat (Nepal/Pakistan) is an open-source, cash and voucher assistance platform that uses blockchain-based mobile tokens that can be pegged to cash and/or commodities. Beneficiaries can access aid by using SMS, QR codes, NFC cards or digital wallets, or through feature phones as a digital bank.
We Are Caring (Singapore) is an ethical employment agency for migrant domestic workers in South-East Asia providing a debt-free recruitment model, a way to find the right employer/helper, and support during the period of employment.
Vitto Micro-finance.AI (India) is a fintech platform focused on targeting the unserved sections of the Indian society and helping them secure microloans for their respective necessities. Its API tools helps banks potentially underwrite the low-income internal migrant segment
ZADA Solutions Pte Ltd (Singapore/Myanmar) is a decentralised identity network that enables the exchange of credentials. Individuals will be able to receive proof of their claims such as education, and share it to an organisation which can instantly verify it with no need to contact the original issuer.
YuvaPay (India) is a mobile payment platform for the last mile rural population who are un-connected and unbanked. 
The Middle East
Aseel (US) is a platform delivering humanitarian aid with low overhead, providing market access for handmade artisans, and offering financial access.
Balad (Egypt) is a NeoBank for migrants and their families.
Cwallet Services (Qatar) is an award winning startup offering a digital platform to low-income and unbanked migrant workers, domestic helpers, and blue collar workers to receive salaries, send money home, pay bills, buy groceries from their local store, access metro tickets, purchase bus tickets, and transfer money to family and friends.
Credify (Egypt) is an Open API and SDK allowing lending and BNPL partners to enrich and automate their credit scoring using alternative data sources and their customers' digital footprint.
Dinarak (Jordan) is a mobile payment service provider licensed by the Central Bank of Jordan and serving more than 400,000 customers and 2,000 businesses.
Empowch (US/Lebanon) is a mobile payments and financial services platform empowering the unbanked by providing low-cost remittance and secure digital wallets.
Monak E-Services (UAE) is a MENA-based migrant fintech company that provides financial inclusion and life services to migrants and underserved communities via partnered networks. 
Purpl (Lebanon) Purpl is a remittance and cash out aggregator API layered platform for the Levant region allowing for ATM network integration and cardless withdrawal, combined with a digital wallet in Lebanon.
SAV Technologies (UAE) is a one-stop money management platform for migrant populations in the Middle East, focused on savings.
Uqudo (UAE) is a digital onboarding, e-know-your-customer (e-KYC), anti-money laundering (AML), and know-your business (KYB) solutions provider with the widest verification capabilities in the region.
XPay (Egypt) is a real time payments and lifestyle bank for youth and families.